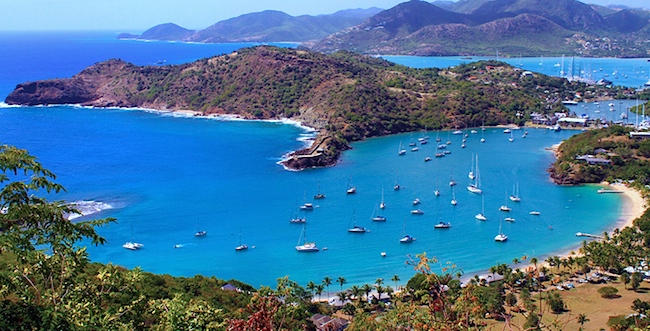 Antigua and Barbuda is a true paradise with sparkling blue waters, lush forests and 365 beaches. Antigua, the most developed of the nation's islands, has something for everyone. The island offers exclusive properties, designer boutiques and a vibrant nightlife. It also has moderately priced homes, exceptional beaches and beautiful mountains. Barbuda, on the other hand, is remarkably undeveloped, making it a paradise for nature lovers and birdwatchers. Of course, Barbuda also has a wealth of stunning, pristine beaches to enjoy.
It is easy to stay active if you retire in Antigua and Barbuda. Popular activities include hiking, golf, tennis, snorkeling, windsurfing, diving, swimming and bicycling. The country is also a leading sailing destination and hosts Antigua Sailing Week each year.
Strong Points:
Spectacular beaches and pristine natural areas
Numerous expatriate communities
Easy to reach, with direct flights from the US, Canada and Europe
Ideal for:
Nature lovers who like to hike and explore
Sailing enthusiasts
Interesting Facts
Christopher Colombus named the island "Antigua" in honor of an icon, La Virgen de la Antigua, in Seville Cathedral.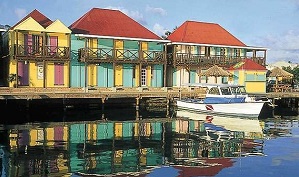 General Information
Government: Independent commonwealth under Elizabeth II
Size: 170 sq mi (440 km2)
Population: 81,799
Language: English and Antiguan Creole
Geography and Topography: Consists of two main islands, Antigua and Barbuda, and several smaller islands. The land is mostly low-lying. The highest point on Antigua is 1319 ft. (402 m), while the highest point on Barbuda is 146 ft. (42 m). It has mostly scrub vegetation and some forests.
Climate: Warm and dry. Average high temp is 81 F (27 C) in December and 86 F (30 C) in July.
Economy: Tourism accounts for approximately 60% of the GDP.
Currency: East Caribbean dollar (US dollar is widely accepted). The exchange rate is fixed to the US dollar (US$1 = EC$2.70)
Activities and Sports
Popular activities are hiking, bicycling, diving, snorkeling, sailing, windsurfing, golf, horseback riding, tennis, fishing, kayaking and birdwatching. Each year, the country hosts Antigua Sailing Week, an important sailing event featuring yacht races and regattas.
Shopping
St. John's, the capital, has a wealth of shopping opportunities. The options range from designer boutiques to shopping centers. The main focus is the upscale market.
Residency and Visas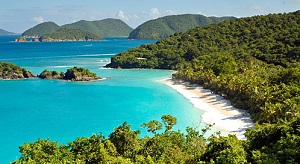 Citizenship by investment program
One option for people who want to retire in Antigua and Barbuda is the citizenship by investment program. Through this program, eligible families of one to four people can obtain citizenship with an investment of US$250,000.
General
For those interested in a second home in Antigua and Barbuda, visitors can stay up to 6 months. They must have an onward or return ticket, confirmed accommodation and be able to produce evidence of sufficient funds.
Real Estate
Foreigners who wish to purchase property must obtain an Alien Land Holding License. The fee is 5% of the purchase price (discounted to 3% for Jolly Harbour and some other developments). The license may take up to 4 months to obtain. The license is specific to the property, so make sure that the purchase agreement is solid.
The Stamp Duty is 2.5% of the purchase price.
Legal fees are usually 1% to 2% of the purchase price.
The costs involved in selling real estate are transfer fees and Stamp Duty (7.5% of the price). Real estate agent fees are normally 5-7%.
Residential land is taxed at 0.20% on both Antigua and Barbuda. Property tax is only levied on Antigua, where residential property is taxed at 0.30% based on the current construction replacement cost.
Antigua has several communities that attract large numbers of expatriates (mostly British, Canadian and American). These are: Falmouth and English Harbour in the southeast, Jolly Harbour in the southwest, Browns Bay and Half Moon Bay in the east and Galley Bay, Hodges Bay and Cedar Valley in the north.
Taxes
Residents are taxed from 10% to 25% on their worldwide income. The country has no capital gains tax and no inheritance tax.
Non-residents are subject to a 20% withholding tax for income generated in Antigua and Barbuda. This applies to rental income.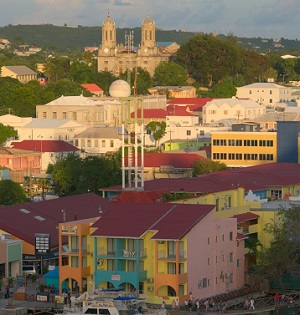 Cost of Living
Expats who retire in Antigua and Barbuda find the cost of living to be somewhat higher than in the US, Canada and Europe.
Medical Facilities
The two largest medical facilities are in St. John's, the capital. The main hospital is Mount St. John's Medical Center. There is also a private clinic, Adeline Clinic, which provides an alternative to the main hospital. Although these medical centers can provide a range of treatments and services, some medical conditions may require transfer to a different country.
Accessibility and Transportation
Air travel: People who retire in Antigua and Barbuda can reach the country relatively easily. V. C. Bird International Airport is served by major North American and European airlines. In addition, it is the main hub for the Caribbean airline LIAT. Flights between the islands of Antigua and Barbuda take about 15 minutes.
Roads: Cars drive on the left side of the road. Roads can be steep and winding. They may also be unpaved. The national speed limit is 40 mph.
Public transport: Taxis are available at the airport and main tourist areas. A private bus service (mini-vans and small buses) runs between St. John's, the capital, and many of the villages and tourist areas.
Ports and harbors: Heritage Quay, Nelson's Dockyard, Falmouth Harbour and the south side of Barbuda. Cruises land at Falmouth, Nevis Street or Heritage Quay. To dock in Barbuda, boats must first enter in Antigua and request a permit from the Port Authority.
Ferries: There is ferry service between Antigua and Barbuda. The trip takes about 90 minutes.
Maps