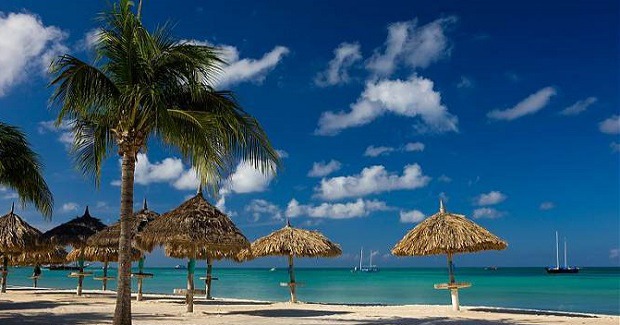 Aruba offers endless stretches of white sand beaches, spectacular turquoise water, striking desert landscapes and a warm, dry climate. In fact, since it rarely rains, the island has perfect weather for enjoying outdoor activities year round. Aruba has long been a favorite destination among the wealthy, with luxury condos and villas, fine restaurants, high-end shopping, exclusive night clubs and casinos. However, this island is not just for the rich – it also has plenty of great housing and entertainment options for people with a moderate budget.
Aruba is well-developed and has one of the highest standards of living in the Caribbean. It also has a special residency program for retirees that is accessible to many.
Strong Points:
Spectacular white sand beaches and striking landscape
Plenty of entertainment and shopping
Direct flights from the US, Canada and Europe
Ideal for:
People looking for a dry climate
Retirees searching for an easy residency program
Interesting Facts
Early explorers described Aruba as an "island of giants" due to the inhabitants' remarkably large stature.
Aruba was first colonized by Spain.
General Information
Government: One of four countries that form the Kingdom of the Netherlands (constitutional monarchy)
Size: 20 miles (33 km) long, 69.1 sq mi (179 km2)
Population: 102,911
Language: Dutch, Papiamento (Portuguese-based Creole)
Geography and Topography: Mostly flat, with some rolling hills inland. The highest point is 541 ft (165 m).
Climate: Dry, arid. Average high temperature is 80 F (27 C) in January and 91 F (32 C) in July.
Economy: Tourism, gold mining, phosphate mining and aloe export.
Currency: Aruban florin (pegged to US dollar, 1.78 florins = 1 USD). US dollars are widely accepted, especially in resort districts.
Activities and Sports
Expats who retire in Aruba can enjoy diving, snorkeling, bicycling, golf, horseback riding, sailing, windsurfing, kite surfing, fishing, kayaking, swimming, tennis and bowling.
Shopping
Aruba has plenty of opportunities for shopping. The capital has shops selling high-end designer fashions (including Louis Vuitton, Gucci and Ferragamo), leather goods and jewelry, as well as local crafts and cigars. In addition to the shops downtown, the island also has several shopping malls.
Residency and Visas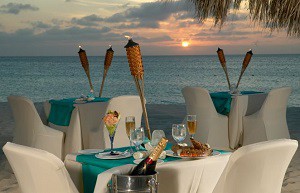 Special programs for seniors
The country has a special residency program for people 55 years old or older who wish to retire in Aruba. In order to qualify, the retiree needs a minimum annual income of US$ 56,200 from a pension or other legal source. The person must also own a home on the island.
General
For short stays, visitors are required to have an onward or return ticket and sufficient means to support themselves for the length of their stay (proof may be requested upon arrival). The normal permitted length of stay is 30 days, although an extension can be requested.
Non-residents who own property in Aruba can request an extension of stay. The maximum amount of time that a non-resident can remain in Aruba is 180 days.
Non-residents who request an extension must have travel insurance for the duration of the stay.
Real Estate
Non-residents can purchase property in Aruba. The closing costs paid by the buyer are a transfer tax (6% if selling price is above US$ 140,500, 3% if price is below this value). The buyer also pays notary fees (approx 2% of selling price).
Lease Land: Some residences are built on lease land owned by the Land of Aruba. The lease is for 60 years and the homeowner must pay a yearly fee for the lease rights. The fee ranges from US$ 200 to US$ 600 per year. At the end of the 60 year period, the lease is automatically renewed. There may be an increase in the yearly fee at this time.
Real Estate Taxes: The annual property tax is 0.4%. The land tax is US$ 0.08 per sq ft (0.85 per m2).
For those interested in renting out their property, the net rental income is taxed using the same progressive rate system used for income tax (discussed in the Taxes section below).
Taxes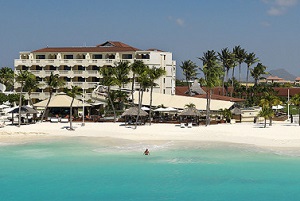 People who want to retire in Aruba should be aware that residents are taxed on their worldwide income. The tax rate ranges from 7% to 59% and is based on taxable income.
Capital gains are also taxed at the same rates as income tax.
The inheritance tax in Aruba is 2% to 6% tax for the spouse and children. Non-residents who inherit property in Aruba must pay an 8% transfer tax.
Cost of Living
Expats from the US, Canada and Europe who retire in Aruba find the cost of living to be somewhat higher than their home country.
Medical Facilities
Aruba has high-quality health care. There is a full-service hospital in the capital, Oranjestad.
Accessibility and Transportation
Air travel: Reina Beatrix International Airport receives direct flights from the US, Canada, Europe and South America, as well as other Caribbean countries.
Roads: Cars drive on the right side of the road. Rural roads are generally unpaved.
Public transport: Taxis are easy to find in tourist areas. The island also has reliable bus service.
Ports: Cruises arrive at the port of Oranjestad.
Ferries: There is no ferry service between Aruba and other islands or Venezuela.
Maps