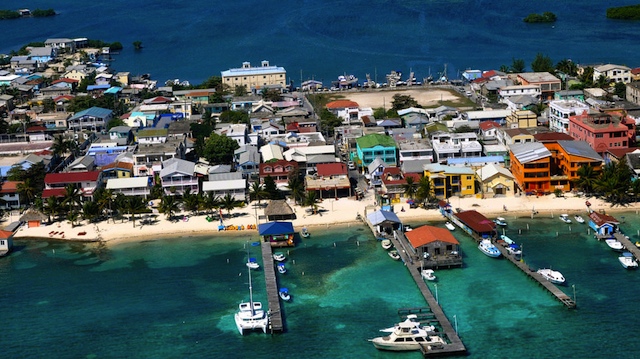 Belize is a true tropical paradise, with superb beaches, hundreds of stunning islands, lush rainforests and cool mountains. Off the coast, there is a coral reef teeming with fish and other sea life, making the country a top destination for diving and snorkeling. Belize is also full of history, with fascinating Mayan ruins scattered throughout the country. With so much to see and do, it's no mystery why retiring in Belize is a popular choice.
Strong Points:
Coastal, mountain and rainforest areas to explore, as well as Mayan ruins
Numerous expat communities
No capital gains tax or inheritance tax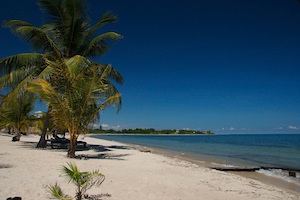 General Information
Government: Constitutional monarchy under the Queen of England based on the British parliamentary system. The Queen is represented in Belize by the Governor-General.
Size: 8,867 sq mi (22,966 sq km)
Population: 2013 estimate 338,597
Language: Official language is English. Creole and Spanish are also widely spoken.
Geography & Topography: Belize is on the Caribbean coast of Central America. The northern part of the country has swampy coastal plains and forest areas, while the south is mountainous. Belize also has hundreds of islands off the coast and a series of coral reefs.
Climate: Tropical climate with wet and dry seasons. Average high temperatures in the coastal regions are 81 °F (27 °C) in January to 88 °F (31 °C) in July.
Economy: Belize has a thriving tourism sector, and also relies on oil exports and agriculture.
Currency: The Belize dollar. Currently pegged at $2 Belize = $1 US.
Activities and Sports
Belize has over 400 cayes or islands and a large coral reef right off the coast. Inland, it has a varied landscape and incredible biodiversity. This makes Belize ideal for a wide range of outdoor activities. People who retire in Belize can choose from hiking, caving and archeological adventures in the interior to water sports like sailing, surfing and scuba diving on the coast.
Shopping
Belize City has a variety of stores, including a department store, hardware and home improvement stores, grocery stores, etc. While fulfilling basic needs, the shopping in Belize is quite limited. Many expats prefer to go outside the country for better shopping.
Residency and Visas
There are several ways to retire in Belize. The best option for you will depend on your particular situation. In other words, on whether you are moving permanently to the country, buying a second home or just remaining for several months.
Special programs for seniors
Qualified Retired Persons Incentive Program
People 45 years or older who have an income of at least $2,000 per month from a pension, investment or annuity can apply for this program offered by the Belize Tourism Board. Citizens of all countries are eligible to apply. The benefits include being able to ship all personal effects, including a vehicle, free of tax. In addition, successful applicants are exempt from income tax on income sources outside of Belize. Upon acceptance to the program, there is a fee of $1,000 for the person applying and $750 for each dependant (spouse and children under 18 eligible).
General
Tourist Card (or Visitor's Visa)
Upon arriving in Belize you will be issued a Tourist Card, which you can renew after 30 days at the immigration office for a fee. The card must be renewed every 30 days for the duration of the stay. When you renew, you may have to show proof of funds – about $60/day. As there is no set limit on the length of stay, this may be a good choice if you only plan on staying for several months at a time. Note that residents of some countries must apply in advance for a tourist card. Citizens of the USA and UK, as well as other CARICOM nations do not have to apply in advance.
Permanent Residency
After staying in the country for 1 full year (without leaving for more than 14 days during this period), it is possible to apply for Permanent Residency. The application process involves presenting documents, including a birth certificate, police report and letters of good character. In addition, there is an application fee that varies depending on your home country ($1,000 for US citizens). The process can be time consuming, but can be expedited by obtaining the help of an immigration lawyer or immigration specialist. Citizenship can be applied for after 5 years of Permanent Residency.
Real Estate
Belize has no restrictions on foreign buyers. Buyers pay a 5% transfer tax. The fee for real estate agents is usually 6%, paid by the seller. Attorney fees range from 1-2% of the purchase price. It usually takes 30 to 90 days to close.
Real Estate taxes
The tax rate for unimproved land is 1%. Property taxes are based on the actual or assessed rental income. The rate is 12.5% for occupied properties and 2% for unoccupied properties.
Taxes
The income tax for residents is a flat rate of 25%. People in the Qualified Retired Persons Incentive Program are exempt from income tax on income sources outside of Belize. Non-resident property owners pay 3% on gross rental income.
Belize has no capital gains tax or inheritance tax.
Cost of Living
The cost of living is similar to or slightly lower than the US, Canada and Europe. Electricity and food prices are high.
Medical Facilities
Belize has numerous public hospitals and clinics that are located in the major population centers. There are also two private hospitals in Belize City. Expats who retire in Belize find that the quality of the medical care at the public facilities is not as high as in North America and Europe. The private hospitals offer better care, but are also quite expensive. Many expats prefer to travel to neighboring countries (Mexico, Guatemala) or the US for specialist medical care.
The quality of dental care is very good, and roughly half the price of care in the US.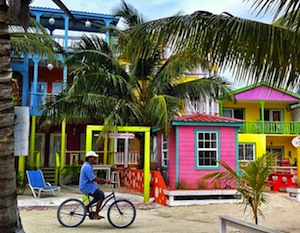 Accessibility and Transportation
Air travel: The international airport is located outside of Belize City. It is served by several US airlines, as well as local and regional airlines. There are smaller airports throughout the country served by smaller planes.
Roads: Belize has four main two-lane paved roads. Other roads are unpaved and generally in poor condition. Cars drive on the right.
Public transport: Public buses run throughout the country and are a popular means of transport.
Ferries: Water taxis can be used to reach many destinations, including San Pedro, Caye Caulker, Placencia, Dangriga and Corozal. The boats run on regular schedules. There are also water taxis that travel to Honduras and Guatemala.
Maps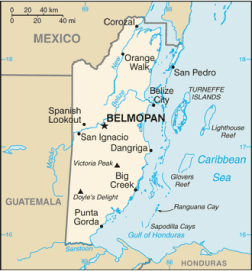 Additional Resources
Belize Immigration and Nationality Department Belmopan, Cayo District Belize
Tel: 501-822-2423 Fax: 501-822-2662
In the USA:
The Belize Embassy
2535 Massachusetts Avenue Northwest
Washington, D.C
Tel: 202-332-9636 Fax: 202-332-6741