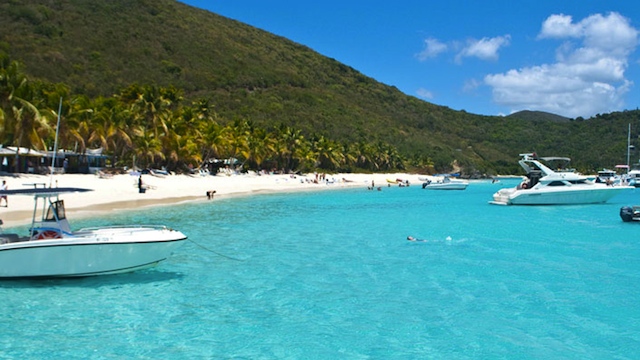 Famous for its white sand beaches, scuba and snorkeling, lively Jost Van Dyke nightlife and most of all the great sailing, the British Virgin Islands are a favorite Caribbean destination. It can also be a wonderful place to retire or semi-retire if your interests lie in these areas. The economy is mainly supported by the tourism and off-shore finance sectors, and the economy is one of the strongest in the Caribbean. There are some restrictions on purchasing real estate, but they are not onerous. Also, there are no personal income taxes.
Strong Points:
No income, estate or inheritance tax.
Lots of activities and strong community ties
English speaking and US dollar currency
Ideal for:
Sailing enthusiasts
Second-home buyers, as full residency is difficult
People who like to socialize and participate in activities.
Interesting Facts:
The British Virgin Islands comprise over 50 islands, 15 of which are inhabited.
The main islands are Tortola, Virgin Gorda, Anegada, and Jost Van Dyke
BV Islanders are both British and EU citizens even though not part of the EU.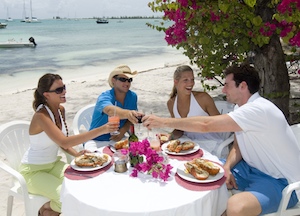 General Information
Government: British Overseas Territory.
Size: Area 59 sq mi/153 km2. The largest island, Tortola, is approximately 12 miles (20 km) long and 3 miles (5 km) wide.
Population: 27,800 in 2012
Language: English
Geography & Topography: The islands are mostly volcanic in origin with hilly, rugged terrain. However, Anegada has a flat terrain composed of limestone and coral.
Climate: The British Virgin Islands have a tropical climate that is cooled a bit by trade winds. In general, high temperatures range from 84 F/29C to 90 F/32C.
Economy: Tourism and financial services oriented. The BVI has become one of the world's most important offshore financial centers.
Currency: The official currency is the US Dollar.
Activities and Sports
People who retire in the British Virgin Islands can choose from a wide range of activities. If you enjoy sailing, the British Virgin Islands is one of the yachting capitals of the world. Almost anything you can imagine regarding water sports is available, from surfing to snorkeling and scuba diving. Fishing is also a huge sport in the BVI. There are fitness centers offering activities like yoga and spinning. Golf enthusiasts should look at other options since there are no golf courses in the BVI.
Shopping
The best shopping area is located on the BVI's largest island, Tortola. Visit the Main Street and Waterfront Drive shops and larger stores for everything from clothes to household items.
Residency and Visas
General
Short-term visitor
A passport is required for entry. Citizens of some countries also require a visa. Visitors can stay for up to one month if they have return tickets, sufficient means of support and accommodations for their stay. To stay longer, you must apply for an extension from the Immigration Department in Road Town, Tortola.
Part-time Resident
If you would like to retire in the British Virgin Islands for part of the year and own a property, you are eligible to obtain an Alien Landholding ID Card. This grants property owners permission to live in the BVI for up to six months each calendar year.
Full-time Resident
Unfortunately, the BVI does not offer any options for retirees to become full-time residents. In order to be eligible for a Certificate of Residence, applicants need to have lived in the country for 20 years (work visa, marriage, etc.).
Real Estate
Non-Belongers (Non-BVIslanders) must obtain a Non-Belonger Landholding License before buying or leasing property. Requirements for the license include financial and personal references as well as a police certificate. The license is for the specific property and is non-transferable. When the license is approved, the buyer must pay the balance of the purchase price at closing. It typically takes up to 1 year to close the transaction. The purchase of land to build a home may require that construction be completed within a certain period of time.
Real Estate Taxes
The annual house tax is 1.5% of the assessed rental value of the property.
Taxes
There is no personal or company income tax. There is no inheritance tax, death duty, capital gains, capital transfer or estate tax. There are payroll and property taxes.
Cost of Living
As the BVI imports most products, they are necessarily more expensive than in the US, Canada and Europe. In general, expats who retire in the British Virgin Islands find the cost of living to be rather high.
Medical Facilities
Peebles Hospital is the only public hospital. It offers surgical and x-ray services and also has laboratory facilities.
The Bougainvilles Clinic is a private hospital. It specializes in surgical procedures but also provides general medial services.
Medivac (medical airlift) is readily available for emergencies that cannot be treated locally.
Accessibility and Transportation
Air travel: There are no direct flights to the BVI from North America, Europe or South America. From the USA, the best way to arrive is via Puerto Rico. If you reserve a flight online, use Tortola (EIS) as the destination airport. Many inter-island flights are available.
By sea: There are ports of entry at Road Town and the West End on Tortola, Great Harbour on Jost Van Dyke and St. Thomas Bay in Virgin Gorda. Upon arrival all vessels must clear Customs and Immigration. A valid passport and boat registration papers may be required.
Roads: Some roads are very good, but many are in poor condition. There are also lots of speed bumps and the police do hand out tickets. Also, be careful of animals and children appearing in unexpected areas.
Public transport: Taxis are readily available. There is no bus service on the islands.
Ferries: There is frequent inter-island ferry service among the country's islands. Here is a schedule of ferry services.
Maps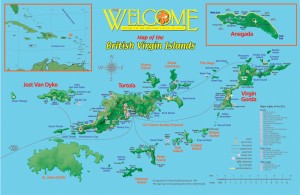 Additional Resources
Government Residence Requirements