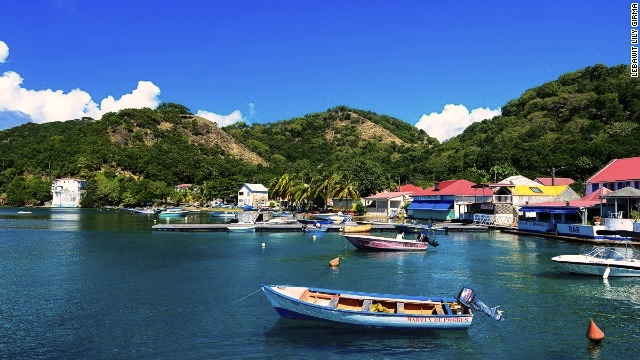 Guadeloupe is known as the Butterfly Island because of the placement of the two main islands on either side of the Rivière Salée, appearing like the wings of a butterfly. These two islands, Basse-Terre and Grande-Terre, are quite different in every respect but both are uniquely beautiful. Basse-Terre has a rough terrain with jungle areas and waterfalls, while Grande-Terre is famous for its resorts and main city Pointes-a-Pitres. There are lots of activities to keep busy and the beaches are stunning. While mostly catering to a French clientele due to its status as a French Overseas Department, an increasing number of people from other countries are enjoying this beautiful island.
Strong Points:
Unique ecosystem with mountains on one island and flat terrain and beaches on the other.
Pointe-a-Pitres is an active town with open-air markets.
Great sailing and scuba diving, as well as other sports and activities.
Ideal for:
People who like hiking and exploring
People looking for a friendly town environment
Interesting Facts:
Guadeloupe comprises the islands of Basse-Terre and Grande-Terre, the smaller islands of Marie-Galante, La Désirade, and the Îles des Saintes
Guadeloupe belongs to both the EU and the Euro Zone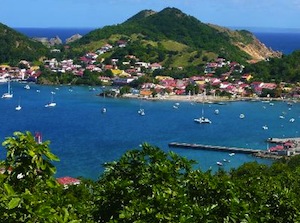 General Information
Government: An overseas region of France, the Department is called Basse-Terre.
Size: 629 sq mi (1,628 km2)
Population: In 2013, 405,739 inhabitants
Language: French is the official language. Creole is also spoken.
Geography & Topography: The terrain of Basse-Terre is primarily rough and volcanic, while Grand-Terre has more of a hilly and plains type terrain.
Climate: Guadeloupe has a tropical climate tempered by trade winds. Average highs in August of 88.9 F (31.6 C) and average highs in January and February of 84.4 F (29.1 C).
Economy: Tourism and agriculture are the main economic sectors. Over 80% of tourists come from France. Guadeloupe depends, to a large extent, on French imports and subsidies.
Currency: Euro
Activities and Sports
Sailing and diving are the big activities for people visiting and living in Guadeloupe. Basse-Terre has beautiful waterfalls in the interior jungle areas.
Guadeloupe hosts an annual international jetski event. Both soccer (football) and basketball are big sports here.
Shopping
Pointes-a-Pitres has traditional open-air markets as well as boutiques located throughout the city. Luxury French products can be found at good prices, including gourmet food items at the supermarches or supermarkets. St Anne on Grande-Terre has lots of markets and shops, as well as a vibrant nightlife.
Residency and Visas
Tourists from the US, Canada and the EU can enter Guadeloupe with a passport and stay for up to 90 days. Citizens of other countries may require a tourist visa.
The requirements for obtaining a long stay visa in Guadeloupe are similar to those in effect for France. The visa must be applied for at the French consulate in the current country of residence. In addition to general documents, applicants must provide proof of sufficient funds for the stay in Guadeloupe or proof of income from a pension or retirement plan.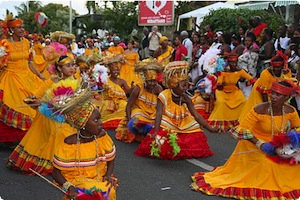 Real Estate
There are no restrictions on foreigners buying property in Guadeloupe.
Taxes
Guadeloupe has income, capital gains and property tax.
Cost of Living
Most products are imported so prices are not cheap. In general, the cost of living is above average with respect to the other Caribbean islands.
Medical Facilities
Health care facilities in Guadeloupe are relatively good, as they are controlled by the state-owned Sécurité Sociale.
Accessibility and Transportation
Air travel: There are flights from Europe, the USA and other islands in the Caribbean arriving at Pole Caraïbes Airport (PTP).
Roads: The main roads are paved, but smaller roads have to be driven carefully.
Public transport: There is a bus system that connects most of Guadeloupe but it is not always reliable. Taxis are available in the cities and at the airport.
Ferries: There are ferry services to Guadeloupe from Martinique and Dominica. There are also ferries between Grande-Terre and the small islands of Les Saintes and Marie-Galante.
Maps