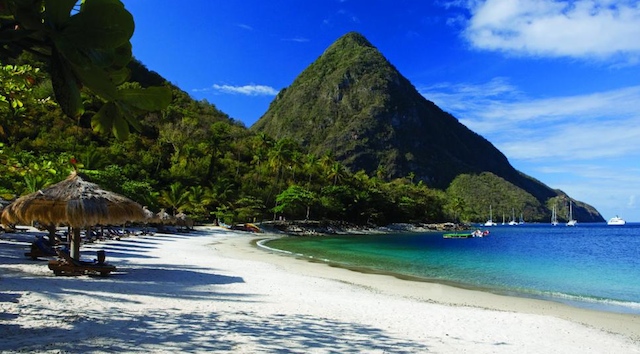 Beautiful beaches lined with palm trees, lush rain forests, the stunning Piton Mountains, waterfalls and scenic harbors are just a few of the reasons why St Lucia would make a great retirement or second home location. There are lots of activities and events that will keep you busy and the towns of Castries and Soufriere have shops and markets for buying most products. St Lucia is a gorgeous and friendly island that is not overly expensive and still has many undeveloped areas.
Strong Points:
Still has many pristine areas and not overdeveloped
Castries, the capital, has a sheltered harbor as well as many shops, restaurants and cafes
Great sailing and diving opportunities
Ideal for:
Nature lovers
Water sports lovers, with great sailing, diving and more.
Interesting Facts:
Almost 1/3 of the population lives in the capital city of Castries
St Lucia has the only drive-in volcano
The Pitons area is a UNESCO World Heritage Site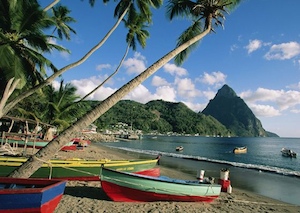 General Information
Government: Sovereign island country with a parliamentary democracy under a constitutional monarchy.
Size: 238 sq mi (617 km2). The island is 27 miles long and 14 miles wide.
Population: According to the 2009 census, 173,765 inhabitants
Language: Official language is English. Creole and French are also spoken.
Geography & Topography: St Lucia is a volcanic island and one of the most mountainous in the Caribbean. The Piton Mountains, rising on the west coast, are readily recognizable and have become the island's most famous landmark. There are also beautiful beaches along the coast.
Climate: Tropical climate moderated by cooling trade winds
Economy: The off-shore banking and tourism sectors are the island's main source of revenue.
Currency: East Caribbean dollar
Activities and Sports
People who retire in Saint Lucia find a wealth of activities to enjoy. In addition to a wide range of water sports and boating opportunities on the coast, the country has beautiful inland areas to explore. There are many ecotourism options like hiking through rain forests, birdwatching in nature reserves, and visiting waterfalls. St Lucia also has an 18-hole golf course.
Shopping
There are several shopping options, from the market in Castries to the malls. There are also two duty free shopping centers in Castries – Pointe Seraphine and La Place Carenage.
Residency and Visas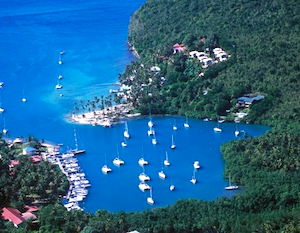 General
Visitors with passports (for some foreign nationals visas are also required) are permitted to stay for 6 weeks, which may be extended upon application. Single entry visas entitle a person to stay for three months, while multiple entry visas are good for one year. Extensions may be granted.
In most cases, the residency process is relatively easy if you are seeking to retire in St Lucia year-round and purchase real estate. After residing in St Lucia for two to five years (depending on circumstances) you can apply for permanent residence.
Real Estate
Foreigners purchasing real estate in St Lucia must first obtain an Alien Landholding License. This entails a background check. The process usually takes two to four months.
Real estate tax
Residential real estate is taxed at 5% of the annual rental value, determined by the government.
When selling property, residents are taxed at up to 5% while non-residents pay 10% in tax.
Taxes
Personal income is taxed at progressive rates, with 30% as the maximum.
There is no capitals gains tax, inheritance tax or estate tax.
Cost of Living
The cost of living in St. Lucia tends to be somewhat lower than in the USA, Canada, Europe and the other Caribbean islands.
Medical Facilities
The island has five hospitals offering fairly good quality health care. However, some medical problems require air evacuation to a larger hospital in another country. For this reason, health insurance that covers air evacuation is recommended for people who decide to retire in St Lucia.
Accessibility and Transportation
Air travel: More than a dozen airlines from many international and local destinations service St Lucia's two airports Hewanorra International Airport and George Charles Airport. There are direct flights from the USA, Canada and Europe.
Ports: The main sea port of St Lucia is Castries. Cruise ships anchor at Pointe Seraphine and La Place Carenage.
Roads: Many of the major roads have been repaved but local roads may be in poor condition.
Public transport: Mini-buses are the primary means for getting around the island, but there are no fixed schedules. Taxis are also available.
Ferries:
Maps