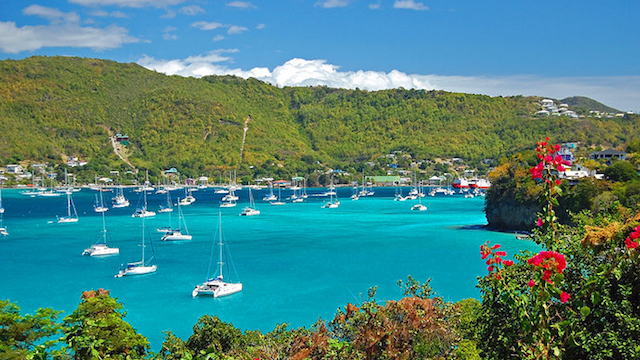 The beautiful country of Saint Vincent and the Grenadines is a true Caribbean paradise. It has a total of 32 islands, eight of which are inhabited. The country is known for its spectacular scenery and quiet, relaxed atmosphere. St Vincent, the main island, is where most of the population lives. It features stunning black sand beaches and a mountainous landscape. Some of the smaller islands tend to draw an upscale yachting crowd, particularly Union and Mustique.
Saint Vincent and the Grenadines offer endless opportunities to enjoy water sports. For sailing enthusiasts, the country is an amazing place to explore, with so many different islands to visit.
Strong Points:
Several different islands and lifestyles
Fewer tourists and less developed than many Caribbean island countries
Range of housing options, from ultra-luxurious to modest
Ideal for:
People seeking a quiet, relaxed lifestyle
Yachting and boating enthusiasts
Interesting Facts:
Most of the St Vincent beaches have black sand, while the Grenadines beaches have white sand.
The territory includes only the top two-thirds of the Grenadines. The lower third belongs to Grenada.
The Pirates of the Caribbean movies were filmed here.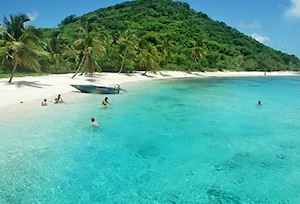 General Information
Government: Parliamentary democracy under constitutional monarchy, Elizabeth II.
Size: 150sq mi/389 km2
Population: 2013 estimate of 103,000 people
Language: English is the official language. Most inhabitants, though, speak Vincentian Creole.
Geography & Topography: St. Vincent is of volcanic origin and is mostly mountainous and forested. There are beaches along the leeward side. The country is composed of 32 islands, but only 8 are inhabited.
Climate: On the island of St Vincent, the average high temperature in July is 86 F (30 C). The average high in January is 85 F (29 C). The Grenadines are slightly drier and warmer.
Economy: While tourism is playing an increasingly important role in the economy, the production of bananas and agriculture in general is the largest sector.
Currency: East Caribbean dollar (XCD)
Activities and Sports
St Vincent and the Grenadines offers a wealth of activities. Water sports include diving, snorkeling, kayaking, windsurfing and kite surfing. In addition, the numerous small islands make this a paradise for yachting. Further inland, retirees can enjoy hiking, birdwatching and exploring the extraordinary natural areas, as well as sports like tennis and bicycling.
Shopping
Shopping options are rather limited. Kingstown has shopping to meet basic needs, but does not have the upscale boutiques found on many other Caribbean islands.
Residency and Visas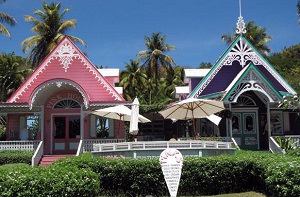 General
Citizens of most countries can enter St Vincent and the Grenadines with a passport. Visitors can stay for four weeks. Longer stays as a tourist require obtaining an extension from Immigration and paying a fee.
In order to retire in St Vincent and the Grenadines year-round, you must obtain a residency permit. This entails providing basic documents, including a police certificate, proof of financial resources and a medical certificate. An annual fee must be paid for both temporary and permanent residency permits. This fee is waived for people who have an Alien's Land-Holding License.
Real Estate
Foreigners must obtain an Alien's Land-Holding License to purchase property in the country. This license can cost up to 10% of the value of the property. An attorney must be used for the application process.
Buyers also pay a 5% Stamp Duty on the transaction. The buying process takes about 4 to 6 weeks.
Real estate tax
An annual property tax equal to 5% of the annual rental value is levied on built land.
Taxes
Residents are taxed on worldwide income. The rates are progressive, with a maximum rate of 40%. The threshold for this rate is rather low, at a taxable income over approximately US$17,000.
There is no capital gains tax.
Cost of Living
The cost of living is lower than many Caribbean countries. Many expats find it to be similar to their home country or less expensive.
Medical Facilities
The main hospital is the Milton Cato Memorial Hospital. It is located in Kingstown, St Vincent. Health care is limited and can be expensive. Due to the small size of the country, specialized treatment may require evacuation to Barbados or another country. People who retire in St Vincent and the Grenadines should consider purchasing insurance that covers air evacuation.
Accessibility and Transportation
Air travel: The current international airport is too small to handle large planes. Most people arrive via connecting flights from Barbados, St. Lucia or Grenada. However, a new larger airport, Argyle International Airport, is under construction and is expected to be completed in 2015.
Roads: Cars drive on the left side of the road. Due to the mountainous landscape of St Vincent, the main roads run along the coasts.
Public transport: Privately owned vans act as buses and provide low-priced transportation on St Vincent.
Ferries: The country has inter-island ferry service that makes traveling between its different islands relatively easy.
Maps