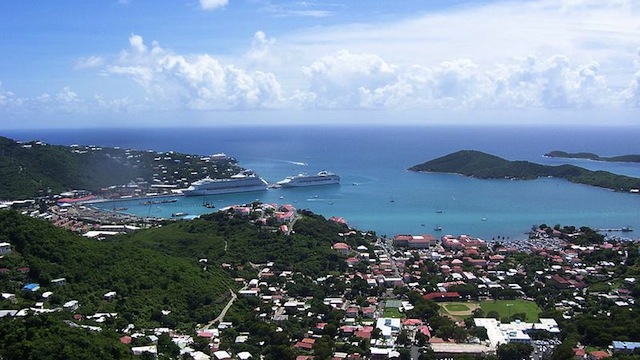 America's "Caribbean Paradise", the US Virgin Islands of St Thomas, St John and St Croix, offer some of the best retirement options in the Caribbean. If luxury living and yachting interest you, take a look at St Thomas and its high-end shopping and harbors. For nature lovers, St John is the place to look for your ideal home or getaway. If you are more adventurous and looking for a town-type setting, explore the possibilities that St Croix has to offer. Whatever you decide, you are always a quick flight away from the US mainland. Also, the official language is English, the currency is the US dollar and American citizens don't even need a passport to enter the islands.
Strong Points:
For Americans, the USVI are a US territory
Duty-free shopping on luxury goods
Daily, nonstop flights from many cities in the USA and Canada
Ideal for:
Yachting, scuba diving and other water sports
Those seeking an easily accessible Caribbean home
Americans who are semi-retired or still working since no work permit is required
Interesting Facts:
Trunk Bay Beach is considered to be one of the most beautiful in the Caribbean
The USVI is the only US location where you drive on the left side of the road, but the cars have left side driver seats!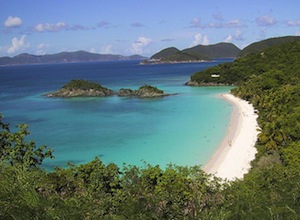 General Information
Government: Unincorporated territory of the USA.
Size: 133.73 sq mi (346.36 km2)
Population: 106,405 (in 2010)
Language: English is the official language. Creole is also widely spoken and smaller numbers of people speak Spanish and French.
Geography & Topography: The four main islands and smaller islands that make up the USVI are located just west of the British Virgin Islands. In general, they are volcanic in origin, although St Croix has a flatter terrain. The USVI is famous for beautiful beaches and harbors, as well as the national park on St John.
Climate: The average high temperature is 90F (32C) in the summer and 85F (29C) in January and February. The USVI have a tropical savanna climate moderated by trade winds.
Economy: Tourism is by far the largest economic sector, with more than two million visitors arriving every year. Most of these people arrive on cruise ships from the USA.
Currency: US Dollar
Activities and Sports
People who retire in the US Virgin Islands can enjoy a wide range of activities and sports. In addition to snorkeling, diving, sailing and fishing, the islands offer land-based activities like golf, tennis and bicycling.
Shopping
Duty-free shopping has made the US Virgin Islands a mecca for bargain hunters, particularly those looking for discounts on high-end merchandise. Main Street on St Thomas is the place to go for designer clothing, jewelry and expensive electronics.
Residency and Visas
In general, a passport is required for entry. No passport is required for US citizens. Similarly, there are no special requirements on residency, working or the purchase of real estate for US residents.
For citizens of other countries, US mainland immigration policies apply.
Real Estate
The real estate purchase process is similar to the process in the US mainland. It involves an offer, title search, inspections and a closing. Attorneys are used by both the buyer and seller.
Real estate tax
Residential property has an annual tax of 0.0038% of the assessed value. The tax rate for undeveloped land is 0.0049% of the assessed value.
Taxes
Tax rules are similar to US mainland. There is no sales tax on the islands.
Cost of Living
The cost of living is generally higher than the US mainland, Canada and Europe. Electricity is particularly expensive and most products are imported.
Medical Facilities
There are two very good hospitals: the Governor Juan F. Luis Hospital on St Croix and the Roy Lester Schneider Hospital on St Thomas. A clinic is available on St John.
Accessibility and Transportation
Air travel: Two international airports serve the islands. Henry E. Rohlsen International Airport is located on St Croix, and Cyril E. King International Airport is on St Thomas. Daily, nonstop flights arrive from New York, Newark, Baltimore, Atlanta, Miami, Philadelphia, Boston, Charlotte, Detroit, Chicago and Fort Lauderdale.
Roads: The islands have a good road network. However, their condition is often less than ideal and there are many sharp turns.
Public transport: Inexpensive public buses run between the major towns. Various types of shared taxis handle most of the tourist travel.
Ferries: Several ferries operate among the US Virgin Islands. There are also connecting ferry services to the British Virgin Islands.
Maps