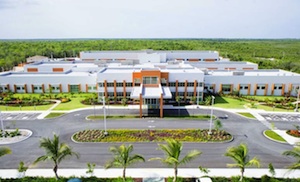 One factor to consider when deciding where to retire in the Caribbean is the availability of medical services and health care. The importance of this factor depends, of course, on your personal circumstances. For many, a quality private clinic or hospital will suffice while others will require proximity to a facility specializing in their ailment. In any case, please take a look at our Countries section to get an initial idea of what each country offers and then check with experts regarding your particular situation.
There are many excellent public and private hospitals in the Caribbean, and it is even becoming a medical tourism hotspot. Health City Cayman Islands, for example, is a world-class medical and surgical facility providing care in the areas of cardiac surgery, cardiology, orthopedics, pulmonology and pediatric endocrinology. There is a luxury hotel alongside the hospital for foreign patients, and a medical university is planned in the near future. Read our staff article for more info, Caribbean Medical Tourism – Health City.
Other health and medical issues that you will want to consider are health insurance and, for Americans, Medicare. While it would be beneficial to speak with an expert regarding your specific situation, here is the general rule regarding Medicare: coverage is not provided outside the 50 states, the District of Columbia, Puerto Rico, the U.S. Virgin Islands, Guam, the Northern Mariana Islands and American Samoa.
While the US Virgin Islands and Puerto Rico are an option for the Caribbean retirement planner, what happens if you choose a different island? The scenario is not bad at all. Private health insurance, either expat insurance from an international company or health insurance from a local provider in your new home country can turn out to be substantially less than your Medicare payments. You can cancel your Medicare and just pay for the private insurance.
Also, for those who are only spending part of the year in the Caribbean, you can keep the coverage and seek treatment while you are staying in the States.
These are just general guidelines, so be sure to talk with a Pro about your particular situation!